Whether you're looking to personalise your staff uniforms, logo your club kit with the teams badge or create a lasting reminder of an event, patches can offer you a cost effective way of achieving this. They can be applied by a variety of methods, dependent on the backing of the patch. Iron-On backing, traditional Sew-On style or for a different option, we can also offer Velcro, Felt, Sticker or Magnetic backing as further options. When ordering your patches, you can have them with an assortment of backing finishes if required.
Once you've decided on the type of patch you require, Embroidered, Woven, Printed etc, the next question is the borders (where applicable) and the backing, generally as a rule of thumb, we would recommend a Hot Knife Border on an Iron On Patch and a Merrow Border on a Sew On Patch.
Embroidered patches can be made from around 20mm in size, it's all dependent on the design of the patch.
Part Embroidery on Twill Background or 100% Embroidery Coverage
When choosing the appearance & make up of your design you have an option of either part embroidery or 100% embroidery. With part, the backing is made up of a twill or fabric background then just selected areas are then embroidered. 100% embroidery is where the whole patch is covered in embroidered stitches (see images below)
Cut to Shape of your design
Your image can be cut to the contour of your patch design with also the ability of certain parts to be cut out, this is only available for patches with either a glue (iron on) backing or sticker backed.
Backings: Iron On / Sew On / Sticker Backed / Velcro Backed (Male, Female or Both) / others on request
How you will want to apply your patch will determine which backing is required.
Iron On: a heat activated glue which the glue is activated to melt under heat (usually by an industrial heat press). When placed into position on your garment and heat is applied (using ideally a commercial heat-press) the glue is melted and is absorbed into the pores of the fabric, giving a life-long permanent adhesion to your garment.
Please note: Although the glue will adhere to most materials, we cannot guarantee the product when it is applied to any materials that have been pre-treated with any repellents, these include water-proof sports coats etc.

Sew On: a traditional sew on patch with a merrow border has no backing, the patch is then applied by additional sewing.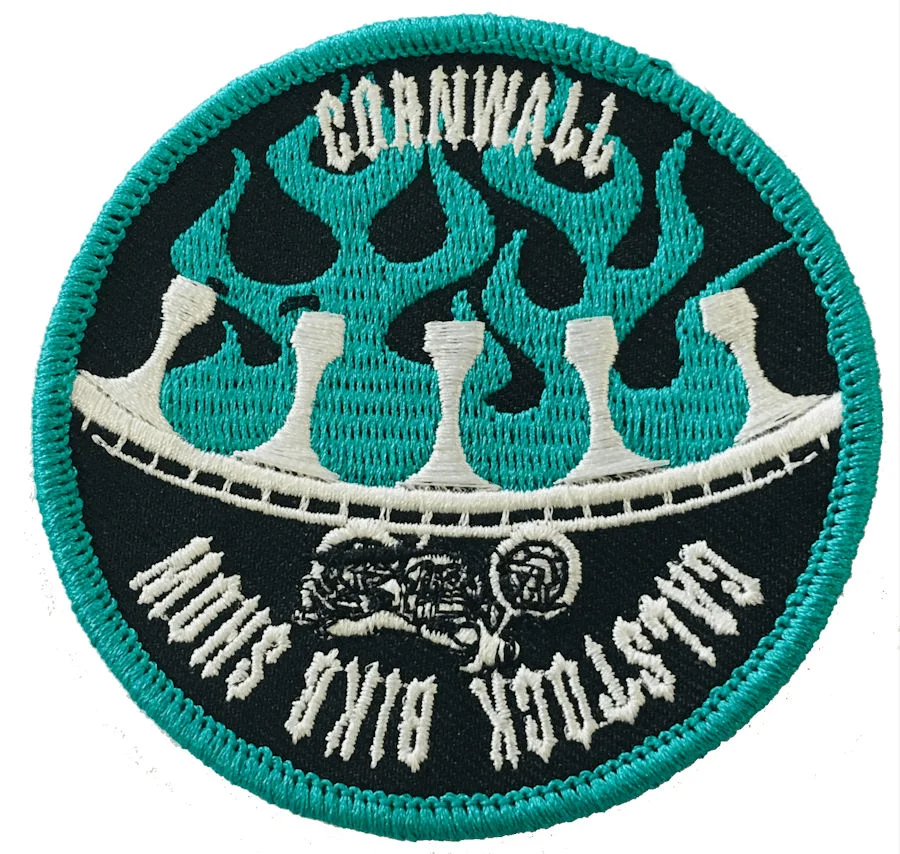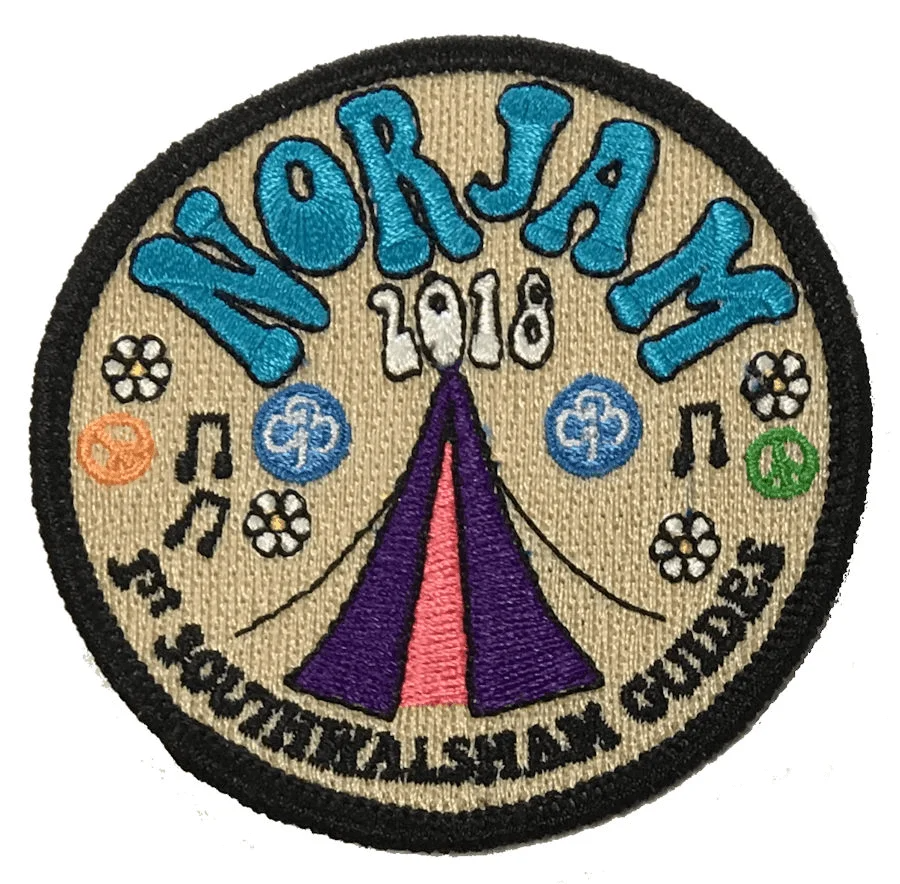 Sticker Backing: a self adhesive backing where you just peel off a paper backing and stick to desired location, great for events where you want your logo displayed on clothing, ideal for temporary uses or if applying to non-clothing items such as work folders etc.
Velcro Backing: choose between male (hook) or female (loop) as your fixing to the patch design, can be supplied with both parts so other part can be applied to garment.
We can also offer other types of backing such as magnetic, felt or custom printed which can show your details on the reverse.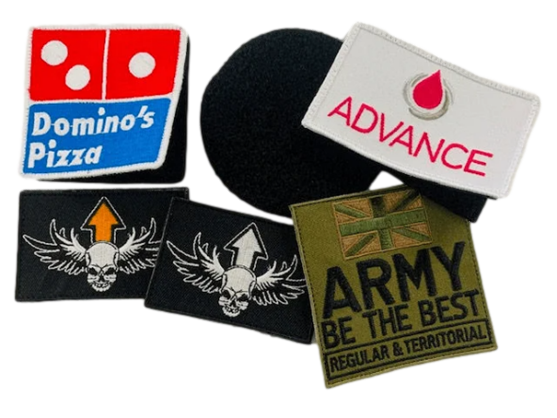 Borders: Merrow, Hot Knife, Laser Cut, Hybrid (mix)
Hot Knife Cut Border: ideal for patches which have an iron on backing, this is not as thick as a merrow border and allows glue or sticker backing to go complete to the edges, a hot knife cut border is also not as thick as a merrow border, it is embroidered prior to the patch being cut.
See how the hot knife cut borders are cut to shape - Hot Knife Border Cutting
Merrow Border: A thicker overlocked border is applied after the patch has been cut to shape, traditionally used for patches which are then sewn on to the garment.
Mixed Border: A mixed border which can contain a merrow border with some aspects being hot knife cut
Minimum Quantity: 25 pieces
Our minimum is generally 25 pieces, we can do less but this will be reflected in higher prices. The more you order the more the price will reduce.
Set Up Cost: No set up cost on completed orders (otherwise £35 plus VAT per design)
For non-account customers we charge an upfront set-up cost of £35.00 per design, this is then refunded against the confirmed order if this is placed within 4 weeks of the proof being made.
Lead Time: approx 2 weeks from artwork approval
3d Puff EmbroideryWe can offer 3d Puff on patches, this is where padding is added underneath the thread during manufacture to give a raised effect in certain areas of the patch, this would need to be specifically identified when placing your enquiry/order.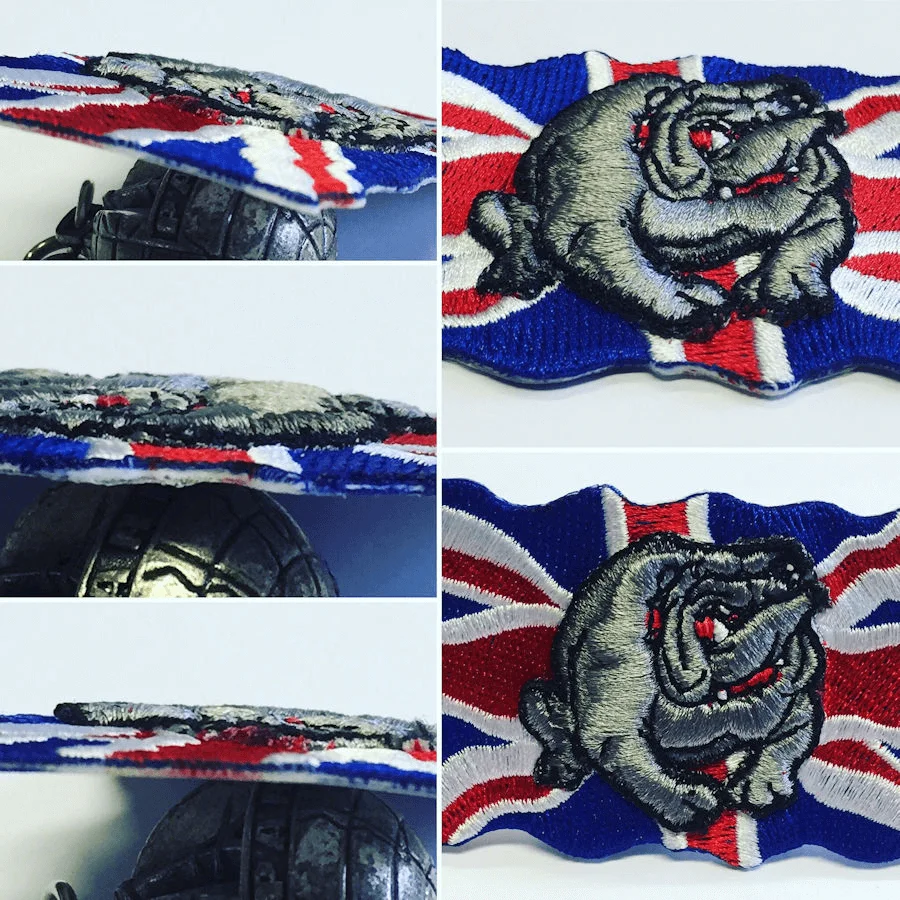 Patch Sizing:
How to work out the size of your patch - Measure the tallest height dimension and the longest width dimension of the patch, add those two dimensions together, then divide by 2, that will give you the size of your patch.
How To Order
When ordering your patch, we need to know certain information
Name of Patch
Size (height & / or width)
Type (embroidered / woven / thermal transfer printed / printed)
Backing (iron on / non backing / velcro / sticker / magnetic / felt)
Finish (merrow border (sew on / velcro) or hot knife cut (iron on)
Colours (select these from thread charts below)